Photobiomodulation
Also known as LLLT or Low Level Laser Light Therapy

In 1967, Hungarian physician Endre Mester published an experiment. He observed accelerated hair growth in rats treated with laser therapy, making alopecia the first legitimate therapeutic indication for laser therapy. Today, LLLT (low-level laser treatment) has been accepted in treating hair loss, as evidenced by clinical trials, and successful patient cases have validated the therapy.
Though it has been used for over a decade, in the last few years, low-level light therapy has finally gained mass acceptance by the foremost physicians in the field of hair restoration, including world-renowned physicians who are both leaders and members of prestigious industry organizations such as the American Board of Hair Restoration Surgery and the International Society of Hair Restoration Surgery.
Low-level light therapy (LLLT) has been used since the 1960s to treat various medical conditions such as alopecia, chronic ulcers, chronic pain, headaches, musculoskeletal, and neuropathic pain without significant adverse side effects. Each of these applications is based on the biological impacts of photobiomodulation in living organisms. The use of low levels of visible or near-infrared (NIR) light to reduce pain, inflammation, and edema, promote healing of wounds, deeper tissues, and nerves, and prevent tissue damage has been known for almost forty years since the invention of lasers1.
A multitude of fields of medicine have applied the science of phototherapy using a low-power laser to their professions:
Physical therapists:

 to treat a wide variety of acute and chronic musculoskeletal aches and pains

Dentists:

 to treat inflamed oral tissues and to heal diverse ulcerations

Dermatologists:

 to treat edema, non-healing ulcers, burns, and dermatitis

Orthopedists:

 to relieve pain and treat chronic inflammations and autoimmune diseases

Veterinary Medicine

Sports Medicine and Rehabilitation Clinics:

 reduce swelling and hematoma, relieve pain, improve mobility, and treat acute soft-tissue injuries.
LLLT and the Management of Hair Loss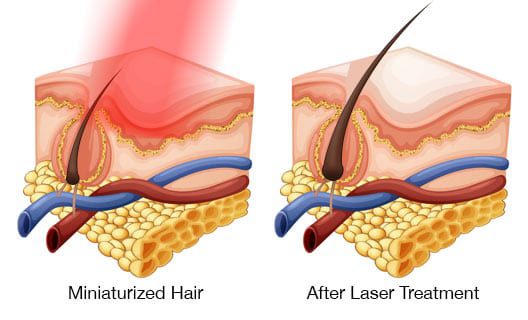 The Food and Drug Administration first approved low-level light therapy in 2007 to treat mild to moderate male pattern hair loss for a laser comb device designed to re-grow hair. The problem with a laser comb device is that it is not practical in application, which leads to improper adherence of instructions for use and thus less than optimal results in non-clinical use. The emergence of the Capillus laser therapy cap revolutionized LLLT for Hair. In recent years, hair restoration has been a leading field in which applying LLLT technologies has enabled physicians to improve patient outcomes. Whether used in conjunction with hair transplant procedures or prescription hair loss medications, laser hair therapy can significantly improve the health of the hair follicle, leading to a fuller and more natural-looking head of hair.
LLLT for hair loss using red light lasers has been reported to:
Increase cell metabolism and the health of blood vessels in the scalp for thicker, supple, and more durable hair shafts

Stimulate the sebaceous glands for silkier-looking hair

Increase melanin production in the hair follicles, darkening gray hairs.
According to capillus.com
Low-level laser (light) therapy (LLLT), also known as photobiomodulation (PBM) therapy, has been practiced for more than fifty years, and hundreds of positive clinical trials and thousands of laboratory studies have been published. Laser Hair Rejuvenation is a non-surgical scientific approach to treating hair loss, thinning hair, baldness, and problems associated with the scalp. Low-level Laser Therapy is a tested method using low-level laser energy or "soft" laser light to treat hair loss in both men and women effectively.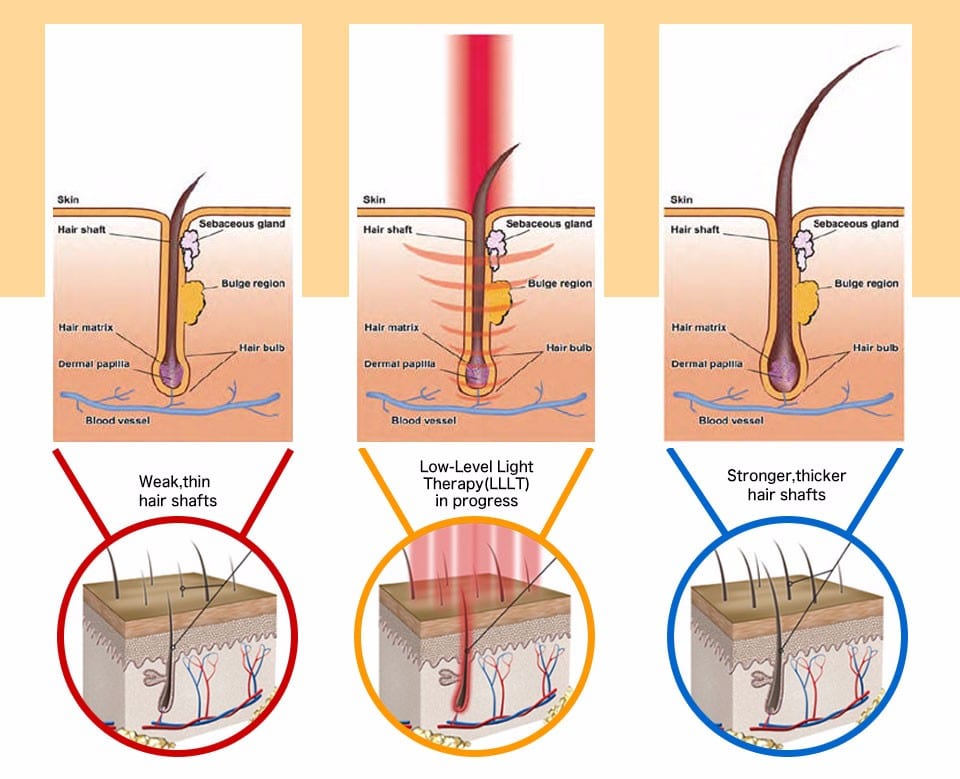 The Low-Level Laser Therapy non-surgical treatments utilize a device containing therapeutic low-level laser diodes first developed in Europe. The treatment delivers light energy directly to the laser diodes to treat the thin, delicate, damaged hair. Physicians praise this technology as an effective treatment for both men and women suffering the devastating effects of hair loss. With laser hair therapy, you can achieve thicker, fuller, shinier, and healthier-looking hair.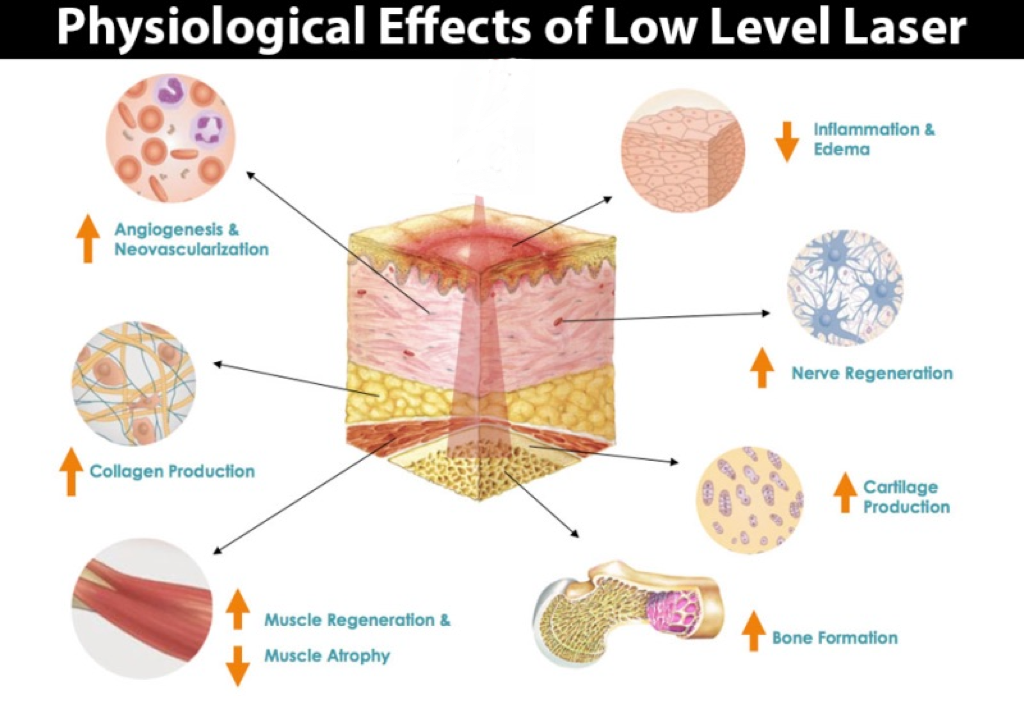 The benefits of laser hair therapy treatment
Increases the blood supply to the scalp

Stimulates the hair follicles.

Stops the progression of hair loss

Increased hair strength and elasticity.

Fuller, shinier, softer, thicker hair.

For post-operative transplant surgery, laser treatments have been shown to help newly transplanted hairs to thrive and increase the healing process.

Can repair damage caused by chemical services.

Delivers red wave, light energy directly.

Treatments for Men and Women – Get back the look you want.
What is low-level laser light?
Low-level laser light is compressed light of a wavelength from the cold, red part of the spectrum of electromagnetic radiation. It is different from natural light in that it is one precise color; it is coherent (it travels in a straight line), monochromatic (a single wavelength) and columnated (it concentrates its beam in a defined location or spot).
High power vs. low-level lasers
There are two types of lasers: high power and low power. High-power lasers are used to cut through tissue and give off heat. On the other hand, low-level laser does not give off heat and uses photo energy.
For many years, leading Bond Studios and salons worldwide have been using 'cold-beam' laser technology for individuals suffering from problem hair conditions. The Low-Level Laser Therapy (LLLT) works by increasing blood flow to the scalp and hair follicles, encouraging hair volume and healthier looking hair.
Will I benefit from laser hair therapy?
Both men and women experiencing early stages of hair loss (Norwood 1-3) may benefit from and see results from low-level laser hair loss treatment.
This sort of treatment has also been shown to be especially effective in many men and women when used in combination with a trichological hair loss control program for hair loss prevention.
Is low-level laser hair therapy safe?
Yes. This type of laser light used in low-level laser therapy (LLLT) meets all of the international safety standards and legislative specifications of a "non-significant risk" product. It is classified as a Class IIIA cosmetic laser.
How soon can I expect to see results?
The appearance of a hair loss reduction usually occurs after five to six treatments. However, some clients have seen results as little as 10-12 treatments.
State of the art Hair Restoration
We encourage you to schedule your confidential consultation today. Meet with a trained professional at our studio in the Staten Island, NYC area. There is no obligation! Your image consultant will provide information regarding the causes of baldness and options tailored to your specific situation and lifestyle.
Each of our procedures is individually designed for your specific needs and lifestyle, and budget. Whether you are just starting to experience baldness or are in the most advanced stages, we can help with our entire spectrum of professional treatment options.
At Bond Studio, we constantly strive to give you the freedom to choose the absolute best solution for you. We provide our clients with personalized custom solutions that are so incredibly natural that there is simply no reason to suffer any longer.
Actual Results from low level laser light therapy.